About
Getting products to people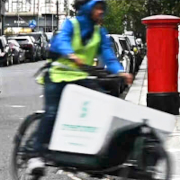 Supporting the community in and around Portobello & Golborne.
Values
Streetrunner takes care to deliver your shopping in good time, in a safe and responsible manner. We are kind to our traders, economy and environment.
Traders Serving local independent traders with comparatively small fees.
Economy Helping keep participating traders busy with a 24/7 online service.
Environment Deliveries by foot or cycle maintain a low carbon footprint.
Our statistics promote greener and healthier living.
Streetrunner Ltd is a not-for-profit organaisation, reinvesting funds into the operation.
Supporters, CASH, Local Life City Living, Portobello Market office, Westway Trust.
Director, Founder Jacob D Rety, local resident, son of lifelong former stall trader.