Partners
Become a Partner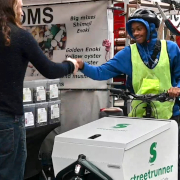 We welcome enquiries to extend our reach.
What we offer
Delivery Availability Timeslots to suit you
Free online shop front to sell your products
Order Notifications
Pick up and delivery and Click & Collect
Bank-to-bank Payment
Affordable rates - 5% on sales.
Local marketing, high ranking search results and social media promotion
Working cooperatively with traders, local authority and community organiseations.
Please see our Terms and Conditions PDF, for further information please Contact Us.
Account Setup
Streetrunner couriers deliver by foot or cycle. If you would like to find out more about becoming a delivery person for Streetrunner, please Contact Us